2016 was a huge year for overseas homebuyers from China that saw underlying trends flagged by us in December 2015 playing out to great effect.
With China's GDP growth exceeding the 6.5% expectation1, Chinese companies contributing to a record flow of overseas deals, outbound tourism flows exploding, and droves of Chinese applying for education abroad last year, we take a closer look and lay out what we see as key trends for 2017:

#1 Domestic slowdown, overseas acceleration
China's government has imposed sales and credit restrictions2 on its domestic real estate market to slow the rapid growth in property prices seen in 2016. With fewer opportunities, and with Bank of America Merrill Lynch expecting residential prices to fall 5% y-o-y in 20173, Chinese property investors will be increasing looking overseas for investment opportunities. This is even more so as Chinese high net worth individuals (HNWIs) consider property purchases abroad as the most popular form of overseas investment. In fact, top investment destinations like the US, Australia, Canada, the UK, New Zealand, and Thailand all saw the highest amount of enquiries on Juwai.com in Q3 2016 – when China began imposing restrictions on its markets – and we percieve that even the recent tightening on personal forex purchases in China should have minimal impact on Chinese individuals investing abroad.

#2 User experience to become a game changer
China's retail sector continues to grow at an astonishing pace – up 10.7% y-o-y in September 2016 with online sales expanding at a 26.1% y-o-y clip4 – and thus cementing China's retail market as the largest in the world. For retailers, though, it's no easy ride for consumers' attention, since competition is ratcheting up with companies going to new lengths to improve customer experiences. One standout example is Alibaba's use of virtual reality (VR) in its Singles' Day extravaganza, where it offered Chinese shoppers a VR shopping experience based on Macy's New York store. Put together with Alibaba's foray into drone delivery5, it's clear that retailers will adopt new technologies and up their game in the ongoing battle for the hearts, minds, and wallets of China's consumers.

#3 Global visa rules to ease for Chinese visitors
Governments in Japan, Australia, and the US have all unleashed a boom in tourism and investment flows after easing their visa policies for Chinese visitors. Following the success of these countries, other nations have followed suit, with the UAE (United Arab Emirates), the Philippines, Turkey, Cyprus, and Vietnam rolling out the red carpet for Chinese visitors as well. These changes, combined with the expansion of visa processing centres by countries like Canada and the UK to more regional cities, will support the flow of outbound tourism and investment from China with real estate a major beneficiary.

#4 Greater competition for Chinese buyers
Chinese property investors are now a powerful force to reckon in markets around the world but competition is ratcheting up as agents are wising up to the potential of this lucrative market. This means that agents will have to go further to get buyers' attention by using data to drive decision-making (such as Juwai IQ), adapting to China's vibrant social media scene (such as WeChat), and focusing on softer criteria to appeal to Chinese buyers, which includes focusing on issues like safety and security to differentiate you from the crowd and give a more nuanced appeal to the Chinese buyer mindset.

#5 China's consumers to continue driving the economy
Alibaba's Singles' Day bonanza, which saw a 32% y-o-y increase that generated $17.8 billion in sales to make it the biggest global retail event, showed that China's consumers are in rude health. Looking at the macro picture, Chinese consumers will be driving the Chinese economy like never before in 2017, especially as the IMF expects Chinese consumers to increase their spending by 7.7% in 20176, and add an extra $311.9 billion to China's GDP.7 For comparison, that's the equivalent of the South African economy.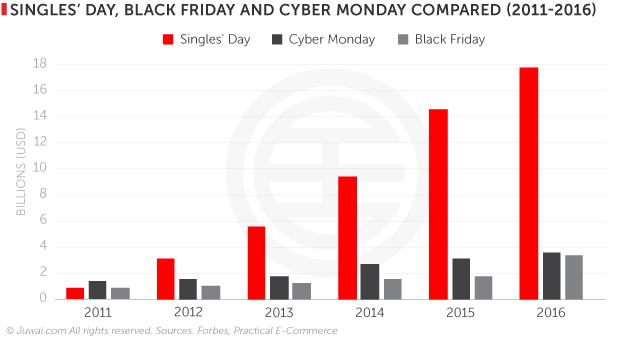 #6 One Belt, One Road to get an even bigger push
With Donald Trump's election indicating a more domestically-focused policy agenda8, China will accelerate the One Belt, One Road strategy's $1 trillion9 investment boom, build-out more efficient trade routes, catapult Chinese companies overseas, and strengthen China's political relationships and influence in Asia, Africa, the Middle East, and Europe. And as Chinese businesses expand overseas, their staff will follow them and be on the lookout for property as they settle overseas, as we have seen happen in Dubai.

#7 Alternative markets soar in popularity
Hotspots like Los Angeles, London, Vancouver, and Singapore will always draw interest from Chinese but alternative locations like Seattle10, Manchester, Calgary, and Iskandar in Johor Bahru, Malaysia11 will see strong demand from Chinese investors as well, thanks to improved transport connectivity, relaxed visa conditions, and increased knowledge of alternative markets.

#8 China's greying population a future goldmine for real estate agents
China will have a population of 340 million retirees aged over 60 in 2030, an increase of 175 million from 2016.12 This is creating huge demand for property and medical services, as elderly Chinese want to retire in comfort and have easy access to excellent medical facilities as well. As such, more and more Chinese are looking abroad to fulfill their needs, creating a burgeoning market for retirement properties and medical tourism. Spending by Chinese on overseas medical care alone was estimated at $10 billion in 201513, and this is expected to grow with locations like the US, Japan, Germany, and Thailand at the top of the list for medical services abroad.

#9 Chinese tourism: larger flows, wider reach
Total global outbound trips grew 4% y-o-y YTD at the end of September 2016, with trips out of China growing 18% y-o-y14, making China the largest source of tourists in the world. The steady loosening of visa rules for Chinese citizens and increasing flight connections out of China, which were up 13.9% y-o-y15, will continue to propel tourism growth out of China. This surge in Chinese outbound travellers are largely driven by droves of travellers from lower-tier cities, mobile millennials – the fastest-growing spenders in China – and an increasingly adventurous tourist base who are just as keen on the Arctic16 as they are on staple locations like Portugal's Algarve coast.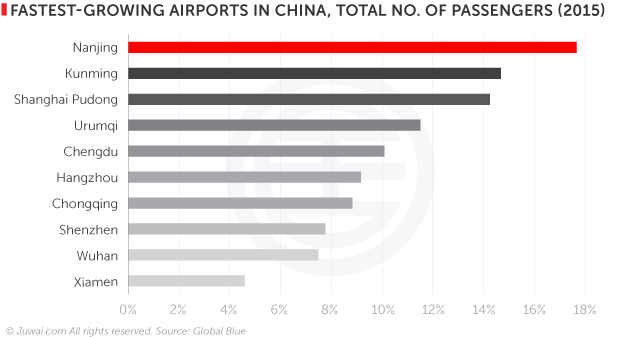 #10 Larger buyer pool in China for overseas properties
Stronger prospects for overseas property markets, increased wealth from China's recent real estate boom, easier visa application rules, the ongoing allure of overseas education, as well as medical and health facilities, plus a greater selection of (increasingly affordable) flight connections…all these will bring more Chinese buyers to market than before.

Armed with these insights into how the Chinese market may play out, it's best to get ahead of the crowd this year, especially with the upcoming Chinese New Year – the first Golden Week of 2017 and a peak season for real estate sales – just days away.
Source From: By Juwai, 26 January 2017